The Weekend That Was
- Back into the busy, busy, run-go-look-see-do weekend. Sigh. Saturday was Happening board meeting in the morning, then lunch at Niagara with the kid, then hanging around wasting time at the mall in the afternoon, then we went to see NU's production of "
The Rink
". The play's book was written by Terrance McNally, Lyrics by Fred Ebb and Music by John Kander (Kander and Ebb also created Cabaret and Chicago. McNally did Kiss of the Spider Woman and The Full Monty). This is not any of their best work. The characters are thin, the music is not particularly memorable. The cast did a really nice job with a really weak script. Trivia note - The Rink opened on Broadway on my 26th birthday. We didn't get home till 1:30 so we slept in and didn't go to church on Sunday. Sunday was Youth Commission, followed by that exceedingly weird Pittsburgh-San Diego game (which at least we won, sorry
Marko
). That may have been the weirdest officiated game ever but most of what I saw called on the Black and Gold they deserved.
Then we got home and the snow began. And it kept on snowing all night. There's 15- 16 inches of snow on my back deck, a little less (but only a little) in the driveways. How much was there two days ago? NONE. So I spent 90 minutes with the snowblower and shovel digging out both driveways and the stairs and a patch of the back deck. And what do I see outside my window as I write this? Still more snow.
The To Do List
- I have a bunch of smaller projects that I just need to eliminate. A couple reports, a camp graphic to create, stuff like that.
What Am I Procrastinating About?
- Mostly doing those small projects. Silly. I could knock off a most of them in the week and be done with them.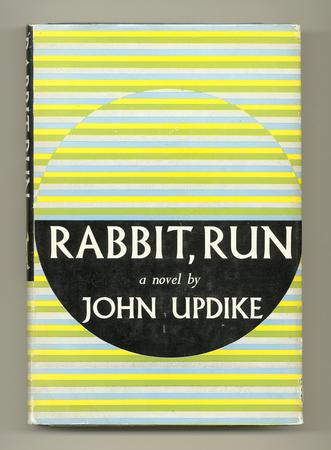 What Am I Watching/Reading/Listening To?
I read
Richard Brautigan
, which was interesting and strange. I'd be willing to read more. Now I'm on to John Updike's "Rabbit, Run". At first I thought it was going to be another "Humboldt's Gift" but it's growing on me. Interesting that it features a character of an Episcopal priest (rather ineffectual like all the other characters in the book) and that it was written as a kind of respones to Jack Kerouac's "On the Road", which happens by sheer luck to be the next book I want to read!
Haven't managed to see a movie, listen to a podcast or hear any music all week. Very sad.
Next Up
I'm still not sure what's up next. I find that rather disturbing.
How Am I Doing
Still feeling pretty good (except when I look at that snow!) volleyball tonight, weigh in tomorrow.
Peace