The Weekend That Was
- Well I wanted an "off" weekend and I got it. Weather shut things down on Friday, I had nothing planned for Saturday and then another storm canceled my meeting on Sunday. So I totally goofed off. And it felt GREAT!!!!! The weather has been a bear and the worst is still to come it appears. I'm doing this late on Sunday evening and we may wake up to well over a foot tomorrow. Gotta wait and see. But it's been nice to relax this weekend. We did Britten's Lessons and Carols at church this morning which was pretty cool. Great sermon that sounded like it was aimed right at me. Don't you love those? Excellent work by our associate rector as always. But MAN IT'S COLD OUT THERE!!! Temps are in the single digits and wind chills are around -1. Lovely.
The To Do List
- Worked on a few more small projects, worked on some stuff for a Youth Commission retreat next year. Need to follow up with some folks on some other things before Christmas break starts.
What Am I Procrastinating About?
- Not too much at the moment. Kinda strange.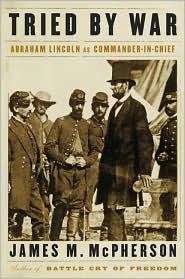 What Am I Watching/Reading/Listening To?
Ripped through "
Tried By War - Abraham Lincoln as Commander-in-Chief
". Really enjoyable and I think pretty even handed. Points out where Lincoln made political compromise, made mistakes and got things right. Really recommend it if you're into American history and military history. It was a great break from everything I've been reading recently. The book is shorter than I expected because it has a couple dozen pages of footnotes.
No music but a couple movies. Finally watched "
The Truman Show
" with Jim Carrey. This was a really fun movie. It's funny that Carrey can do such good quality work when he takes the shot. An interesting concept, well written, acted and directed. I really enjoyed this one. I probably would have seen it sooner except so much of Carrey's work is just stupid. Not this one though.
Plus watched a Christmas movie "
It's a Wonderful Life
" A classic. I don't care if people think that Capra is naive and not cynical enough. Thank God for that. I forget how much fun it is. And I love the styles. Why did men ever stop wearing great hats like this? And any movie that stars Jimmy Stewart is worth watching.
Next Up
Christmas! What more do you need in a week?
How Am I Doing
Still trying to find my way. It's great to know that I have friends and support in this struggle. It's a little brighter and that's a pretty good feeling.
Peace