Traces of the Trade web site
Movie trailer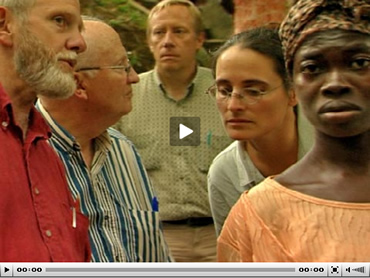 This movie is so amazing, so moving, so challenging that I'm just going to tell you to schedule nothing for its broadcast date, Tuesday June 24 @ 10 PM on PBS. Get in contact with your local PBS station and let them know you want this to air and find out when it will air locally. Tell your friends. Contact everyone you know. Spread the word at work and church and the gym and your local coffee shop.
I saw the rough cut of it at General Convention 2006. It was unbelievable. I was reduced to tears several time. Afterwards we were invited to make comments to the filmmakers. The subject of weeping had come up in the film and my only response was "How can I not weep?" The challenge posed at the end of the trailer about white people getting not "pissed off" about slavery is a valid one I think.
Don't miss this movie. Not "Gee, I really liked it and think you should see it". No. DON'T MISS THIS MOVIE! Don't schedule events that evening, reschedule meetings, die some other day.
Don't miss this movie.
Peace