The Week That Was
- Really rather a quiet week. There was the Louisiana trip fiasco (see below) I'm sure to be hearing about that for years from the family. The car decided to act up (something is going wrong with the fuel gauge. Looks like $300 for parts and 3 hours work. It can wait).
I had a new experience in church! I was an usher for the first time ever. They were short handed so I got drafted. Got several double takes. I also discovered that releasing people from their pews to go up for communion is slightly more complex than I'd thought. It's all a timing thing and it changes the further back you get. Very educational. I don't seem to have brought church to a screeching halt.
Other than that I just plugged away. Did some cooking, fresh spaghetti sauce, spicy peanut chicken soup and a beer and cheese soup. First two were fine, last one needs work.
The To Do List
- I've started trying to bring the to do list under control. Right now it's mostly camp prep and some spring visitations I need to arrange. Anyone want the youth missioner to come visit?
What Am I Procrastinating About?
- Actually doing pretty well at this.
What Am I Watching/Reading/Listening To?
Just finished "
Mainspring
" by Jay Lake. First of his I've ever read and really liked it. An alternate history kind of fantasy - England stills rules the Americas, but God is in actual fact the great watchmaker and the Divine mechanism isn't running quite smoothly.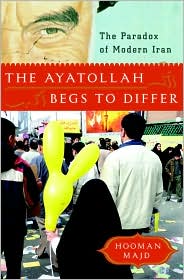 Our hero has to go fix it. Interesting stuff.
Next up is "
The Ayatollah Begs to Differ-The Paradox of Modern Iran
" by Hooman Majd. This takes a look at Iran and it's culture through the eyes of an Iranian American. Raised mostly in the U.S. Majd helps bridge the very different ways of looking at the world. This book is a joy to read and a real eye opener. I'm enjoying it immensely. More people should read this book. It gives a much more 3 dimensional picture of who and what Iran is.
Movies - Finally! "
The Grapes of Wrath
"
John Ford's Oscar winning movie of John Steinbeck's classic look at the Dust Bowl years. The acting style is a little dated but Henry Fonda, John Carradine and Jane Darwell are worth the ride all by themselves. It's an interesting movie to watch in today's economic times as well. We still have a lot to learn about caring for one another and accepting the stranger among us. This was a great movie
Music - OK I just "discovered" Todd Snider so I know next to nothing about him. I like his sound and this song just put me on the floor. Please note that I do not condone his pro-psychedelic drugs comments (which are probably tongue in cheek) at the start of the video. Skip by them and groove to "America's Favorite Pastime" a song about one of the weirder moments in the history of my favorite baseball team.
Next Up
CREDO week. I'll be going to Florida for a week in early May. It's a program underwritten by the Church Pension Fund for clergy and lay employees of the church to help us find a healthier place to live and minister mentally,physically, spiritually and financially. I'm excited a little nervous.
How Am I Doing
I'm OK at the moment.
Peace