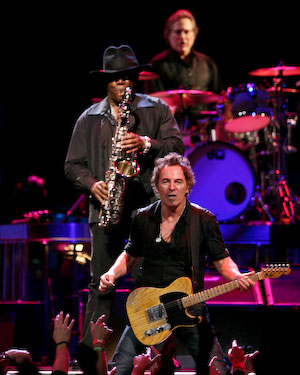 Yes it was utterly amazing. We were just five rows behind the stage (which are GREAT seats for a Springsteen concert) I won't rant and rave too much more. Here's the set list, it's the longest on the tour so far. If you enjoy a great rock show you'd have loved this. Songs in bold are ones that were especially good
Setlist:
The Ties That Bind
Radio Nowhere
Lonesome Day
Be True
Gypsy Biker
Magic
Reason to Believe
Night
Because the Night
She's the One
Livin' in the Future
The Promised Land
I'll Work for Your Love
Working on the Highway
Devil's Arcade
The Rising
Last to Die
Long Walk Home
Badlands
* * *
Buffalo Gals
Girls in Their Summer Clothes
Thunder Road
Detroit Medley
Born to Run
Dancing in the Dark
American Land
On the weight loss front I lost just a single pound. But that's actually not too bad considering I went out to eat and had a couple beers before and after the concert. Hope to kick that up this week. I'm about half way through the contest but less than half way to my goal. Down 15 pounds out of about 35.
In other news apparently
my governor is an idiot
. You can decide for yourself. Need to check and see who the next person in the line of succession is. I'm not sure how you survive when you're supposed to be "Mr Clean" and then do this. Moron.